Cookware
COOKWARE
Our cookware is competitively priced, usually in stock, and can be purchased individually
rather than purchasing the whole set at once.  The best way to determine the quality and beauty of this cookware is to come in and see it for yourself.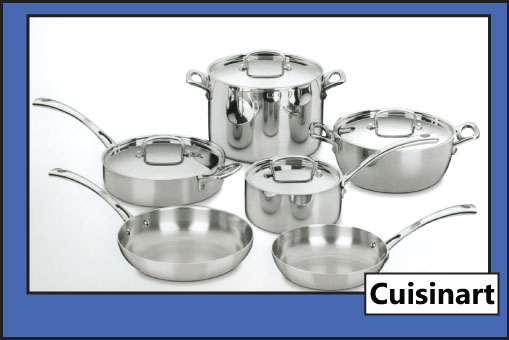 You don't have to be a French chef to appreciate our exceptional French Classic Stainless cookware by Cuisinart.  Made in France, the cookware's technology provides even heat and stay-cool handles.  Tight fitting lids seal in moisture and nutrients for healthier, more flavorful results every time you cook.  This fabulous cookware can be used on your stove top, in your oven (safe to 500 degrees F), and even your broiler.  It is freezer safe  and it retains its brilliant finish in the dishwasher.  This cookware can also be used on induction stove tops!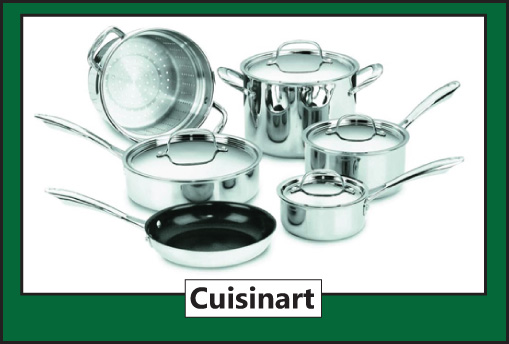 Green Gourmet cookware by Cuisinart has an exclusive non-stick technology that helps reduce oil consumption for healthier cooking.  .  The "Ceramica" nonstick surface (unlike other non-stick surfaces) tolerates metal utensils.  The cookware has an aluminum alloy core bonded to a stainless steel interior, has superior heat conductivity and is induction-ready.   The stay cool handle and brushed stainless steel exterior ore two more of the great features of this excellent cookware.

Le Creuset cookware is enamel over cast iron.  Known for its durability, it is also the perfect vessel for making your Pot Luck contribution  a striking presentation on your hostesses' table.
Available in several colors to coordinate with your own table or your kitchen.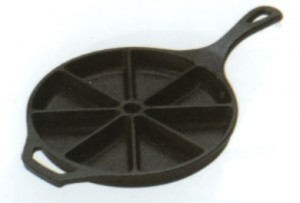 Well into their second century in business, the Lodge Foundry is located in South Pittsburg, Tenessee.  The cookware is foundry seasoned and its introduction placed
Lodge Cast Iron at the forefront of the cookware industry, earning a 2003 Good Housekeeping "Good Buy Award."    Once seasoned, the
cookware becomes easy-release, allowing low fat meals for generations.